There is no such thing as a healthy, growing, lone-ranger Christian. Connect Groups exist to empower people to build relationships, and grow spiritually. Whether you are reading through a book, serving on an outreach project, or sharing a common interest, our Connect Groups are the place where life change happens. Sign up today!
Join us for one of our upcoming summer groups.
Sign-ups Begin May 5, 2019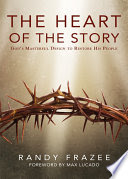 Description
We will take an amazing journey through the story line of the bible and grow in our knowledge of God's plan for his people. As we go through each book of the bible, you will leave with a clear picture of how each book unfolds God's plan and purpose for your life.
Groups are held on various days throughout the week so that you can simply pick the day that best fits your schedule. During the summer all of our groups will be based on the above curriculum "The Heart of The Story".
Adult Group
Leaders:
Eld Dewayne & Robin Morris
Co Leaders:
Min Donte' & Lisa McFrazier
Adult Group
Time: Wednesdays@ 7:00pm
Location: Inglewood, CA
Leader:Eld George Robinson
Co Leader: Femi Porter
Youth & Young Adult Group
Location: Inglewood
Leaders: Kenya Higgins, Alexx Howard, Mark Roberson and Frank Harris
Adult Group
Time:
Saturdays @ 10:00am
Location: Inglewood
Leaders: Lynette Howard & Renee Brown